Has your site's ranking been decreased? Then, maybe you've been hit by the recently rolled out Google EMD Update.
What is Google EMD Update?
Just recently and causing many discussions in the SEO Community, it was announced by Google that they will roll out another upcoming Google algorithm update that will reduce low-quality "exact-match" domains in search results.
Called the Google EMD Update, this recently released algorithm update is Google's new filter that targets low-quality "exact-match" domains (EMDs) to ensure that these low-quality sites don't rise high in Google's search results just solely because they have search terms in their domain names.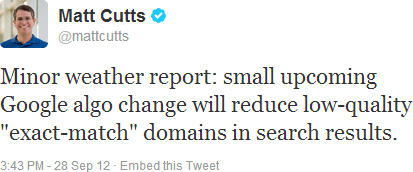 Having the same nature with Google's other filters like Panda and Penguin, the Google EMD Update, as Google confirmed, is a periodic filter. This means that it will be updated on a periodic basis. And designed to work to catch new things that may have been missed before, this new filter will also be used from time-to-time to ensure that what was filtered out before should continue to be filtered.
How the Google EMD Update Works?
Google EMD Update is designed to target "exact match domains," which are domains that exactly match the search terms that they hope to be found for. Specifically, the EMD update was designed to go after poor quality sites that also have exact match domain names and reduce their rankings.
So, this does NOT mean that sites with search terms in their domain names will no longer rank as well as in the past. Provided that they are of high-quality content, EMDs will still rank well in search results.
So, in short, the new Google EMD Update is NOT targeting EMD domains; but rather they are targeting EMD domains with bad content.
How Does Google EMD Update Affect Webmasters?
There has always been a lot of disagreement among SEOs regarding exact match domains. For quite some time, SEOs who understood how to use EMD's have been leveraging them as part of their SEO efforts.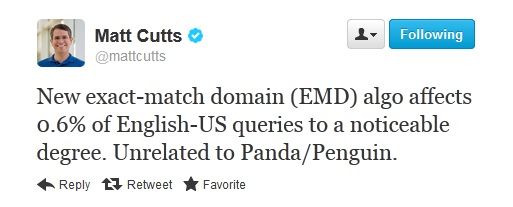 Exact Match Domains, in the early days when relevance algorithms were rather weak, have been well known to be a great SEO leveraging tool in getting to be highly ranked.
For instance, "double dashed" domains such as exact-match-keywords.com were used, aside from its being cheap to buy, in making their sites easy to rank. These sites also often tend to lack any really quality content.
There are even some of them that lack content at all or are "parked" or have content that's taken from other sites ("scraped"), though these sites have already been targeted by Google's Panda and other efforts.
Now, with the latest Google EMD Update, these EMDs such as these "double dashed" domains, especially those with low-quality contents that are in between a "scraped" and a "parked" content or those specifically low-quality sites, would now be finding it difficult to rank well or even be found on Google's search results.
Because of these, webmasters and SEOs, especially those with EMDs, will now more than ever be motivated to provide its visitors great-user experience by creating interesting and useful unique contents in their sites.
Posted by PremiumSEOSolutions.com.au:

"If you're thinking of hiring an Australian SEO Company that can help you take your business to the next level, then take a look at the different custom SEO Packages we offer. We can help you increase your search engine rankings as well as receive more clicks from search engines, providing your site with more organic targeted traffic.

Keep on visiting our SEO Guide Blog for more interesting SEO articles and news or subscribe to our Feeds to receive updates via Email"