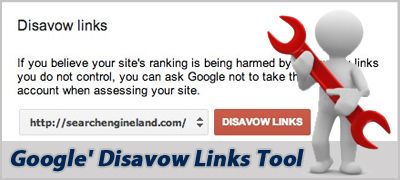 October 22, 2102 - Following Google's constant series of algorithm updates, On-Page SEO seems to have gotten renewed.
Google has finally added the long-awaited Google Disavow Links Tool on their Webmaster Tools.
Matt Cutts, Head of Google Webspam Team, made this announcement during his PubCon keynote. According to him, their own version of Disavow Links Tool should be used by SEOS and Webmasters with extreme caution.
Who Needs to Use this Google's Disavow Tool?
• Those websites that were negatively impacted by Penguin Update due to having "unnatural links" and notified of a manual spam action
• If you have done a lot of ways but there are still some bad links you can't remove
How to Use this Disavow Link Tool?
Matt Cutt's said that their goal with the launch of this tool is to keep the tool simple.
To use this new Disavow Links Tool, all you have to do is upload a text file, with one URL per line (full domain or specific page) of links you want Google to ignore as these are the links pointing at your site that you're telling Google that you don't trust.
The format is stated to be to list URLs in a text file, either individually or to exclude all links from a particular site using domain: format like this:
• domain:google.com
• domain:yahoo.com
• domain:facebook.com
You can also mixed both formats into a single file.
After creating your file, access the disavow link tool through Google Webmaster Central. Then select your website and go through warnings. You will then be prompted by Google to upload a plain text file with the links you want to disavow. So, you need to select your file and then submit.
Cutts said, "Most sites shouldn't use this tool. Use caution. Don't just start disavowing links. Please start slow."
The process of Google discounting the links to your site will not also take effect immediately.
According to Cutts, "It can take weeks for that to go into effect," adding that Google reserves the right not to make use of the submissions if it feels there's a reason not to trust them.
Posted by PremiumSEOSolutions.com.au:

"We are Australia's trusted SEO Company that provides cost-effective SEO Packages. Let us help you analyze your website to determine issues that may be preventing your site from ranking well in search engines.

Keep on visiting our SEO Blog for more interesting SEO articles and news or subscribe to our Feeds to receive updates via Email"