July 30, 2012 – A few days ago, discussion around a possible Google Panda update had been taking rounds among professional SEOs and webmasters.
Even a WebmasterWorld thread also had a discussion of rumors of another Google Panda baby.
Just last July 25, Google announced the rolling out of Panda 3.9 Update on their Twitter Account, saying this data refresh has affected about one percent of search results.
This Panda Update is the 19th of Google's Panda Ranking algorithm which had first went live in February 24, 2011.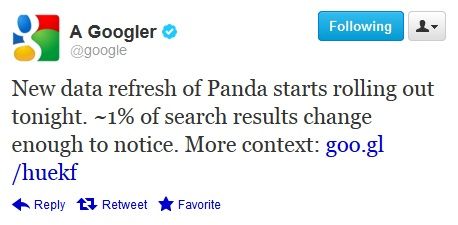 Google's Tweet About Panda 3.9 Update
Aimed to reward "high-quality" websites, Google's series of Panda Updates was designed to remove low-quality/thin content from Google's search results.
Google had since routinely rolled out these algorithm refreshes, though the amount of time between each Panda Update varies, which sometimes happens within days and other times there have been several weeks between updates.
Meanwhile, last July 18, Google's Panda algorithm debuted to a new audience, the Japanese and Korean languages.
In a tweet, it was noted by Google that the roll out, which didn't impact any other language, had impacted less than 5 percent of queries.
Google posted via Twitter, "Last week, Google's Panda algorithm debuted to a new audience – Japanese and Korean languages. In a tweet, Google noted that rollout, which didn't impact any other languages, and affected less than 5 percent of queries."
Posted by PremiumSEOSolutions.com.au:

"We are Australia's trusted SEO Company that delivers Result-Oriented Search Engine Optimization Services. Let us help you analyze your website to determine issues that may be preventing your site from ranking well in search engines.

Keep on visiting our SEO News Blog for more interesting SEO articles and news or subscribe to our Feeds to receive updates via Email"