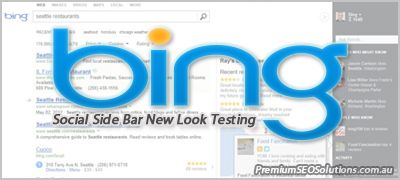 November 28, 2012 -It has not been long since Bing launched it Social SideBar. And now, about 6 months after that, it is again testing its new format which shows more content that are matching from social networks and friends.
The COMPLETE CHANGES include:
• The removal of the Facebook share box with the "post" button
• A header that appears and shows "social results" which carry the many matching results.
• Headings that say "friends who might know" and "people who know" have been changed to "from friends" and "from social networks".
• Activity stream being deleted.
• Being able to see the number of likes or comments one's post has on Facebook.
• Being integrated more deeply with Facebook to acquire more relevant results.
Now, you do not anymore have to scroll over your friends' names to find out their comments or questions as these already appear automatically under their name.
Indeed, social networking is not just about connecting with new people, reconnecting with old acquaintances, and widening your network. More than those, it is already a good SEO and Social Media tool of many SEO experts that provide result-oriented Search Engine Optimization Services. Businesses no longer just resort to keeping a physical store but are also investing on websites to increase their online visibility. Most professional SEOs like Australia SEOs today are also using social networking platforms to keep business websites appearing at the top of search engine results pages and ranking high in Google results.
So don't be lagged behind. Use Bing now and take advantage of this new tool.
Posted by SEO Australia

"Premium SEO Solutions delivers ethical, result-oriented and cost-effective Search Engine Optimisation Services to our clients. Choose from any of our SEO Packages that's right for your business. Keep on visiting our SEO Blog for more interesting SEO articles and news or subscribe to our Feeds to receive updates via Email"

You may also Like Us on Facebook or Follow us on Twitter for more Social Media Updates.